Background
In 1980, the Rajadhyaksha Committee on Power Sector Reforms submitted its report to the Government of India suggesting that extensive reforms were needed in the Indian power sector. In 1981, the Government of India took a policy decision to form a National Power Grid, which would pave the way for the integrated operation of the central and regional transmission systems.
In October 23, 1989 under the Companies Act, 1956, the National Power Transmission Corporation Limited was formed, and assigned the responsibility of planning, executing, owning, operating and maintaining the high voltage transmission systems in the country. In October 1992 , the National Power Transmission Corporation name was changed to Power Grid Corporation of India Limited, as we know of it today.
In 1981, the Government of India took a policy decision to form a National Power Grid
2022
REMC Telangana has been commissioned and thereby all REMs assigned to POWERGRID are now operational.
400KV, D/C, Jeerat (New) - Subhasgram (PM-JTL-TBCB) (214 CKM) implemented by PGCIL, commissioned in Aug'22
2021
POWERGRID Infrastructure Investment Trust (PGInvIT) : 1st InvIT sponsored by a CPSE and largest public offer by any InvIT/ REIT of ₹ 7,734.99 crore successfully launched by POWERGRID.
Bipole-I (3000 MW) of ±800 kV Raigarh - Pugalur HVDC transmission line commissioned.
First time in India, Voltage Source Convertor (VSC) Technology: Monopole 1 & 2 of ±320kV VSC based HVDC terminals and associated ± 320 kV HVDC Pugalur - North Thrissur transmission line.
The Raigarh – Pugalur – Thrissur 6000MW Mega HVDC Project has been completed. 
Ministry of Power, Government of India, has re-designated the prestigious 220kV Srinagar – Leh Transmission System (SLTS) Via Drass – Kargil & Khalasti as Inter State Transmission System(ISTS).
POWERGRID has put 250th substation (765/400 kV Khetri substation) in remote operation from NTAMC.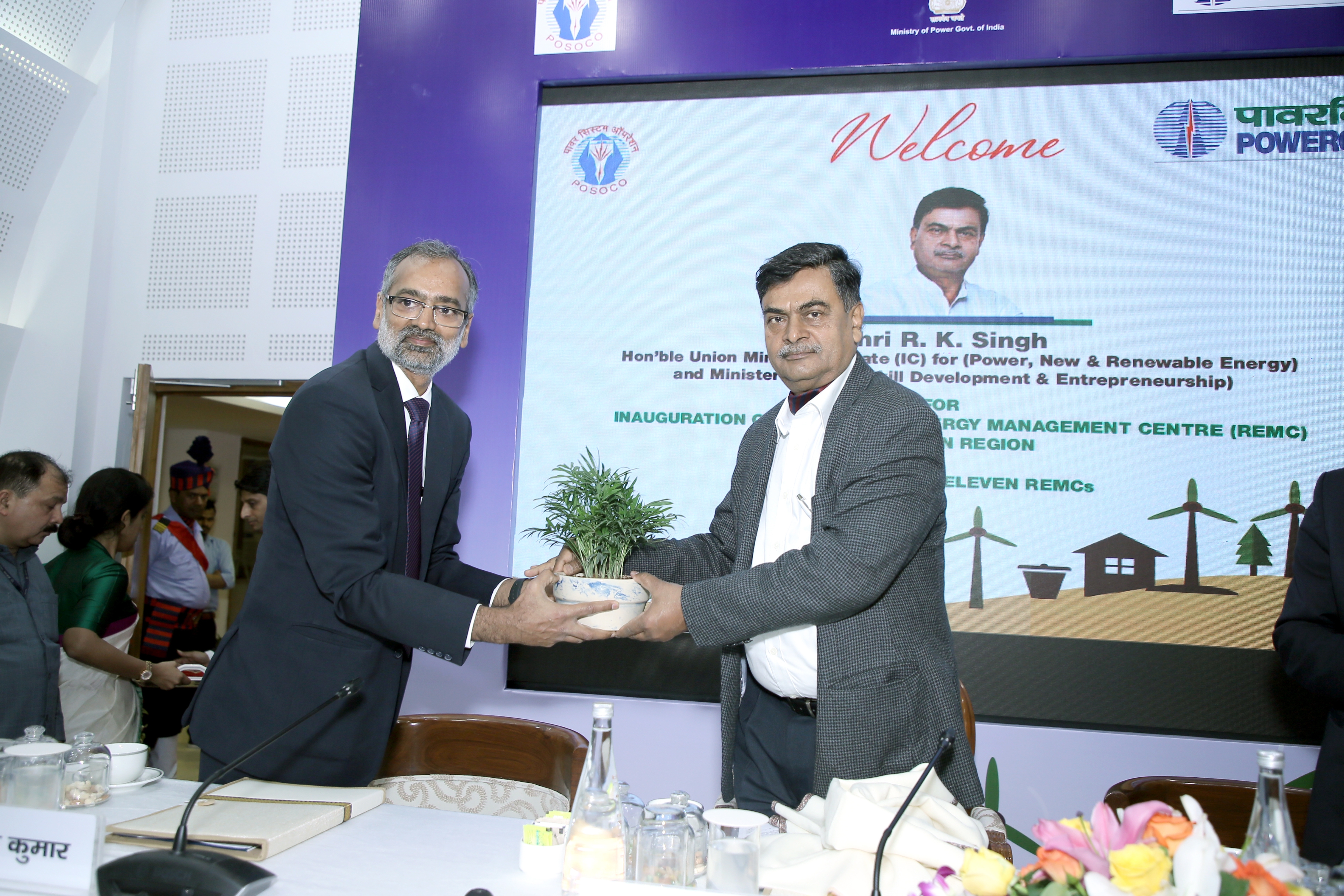 2020
Commissioned ± 800 kV Champa – Kurukshetra HVDC station Bipole-II
Commissioned Pole-I of the 6000 MW Raigarh- Pugalur HVDC
Completed commissioning of 11 Renewable Energy Management Centres (REMCs) for renewable energy integration for Govt. of India
Strong and humane response to the COVID-19 pandemic
Commissioned India's first indigenously developed 400 kV Optical Current Transformer in collaboration with BHEL
Started the process for monetization through InvIT, the first InvIT from a Govt. entity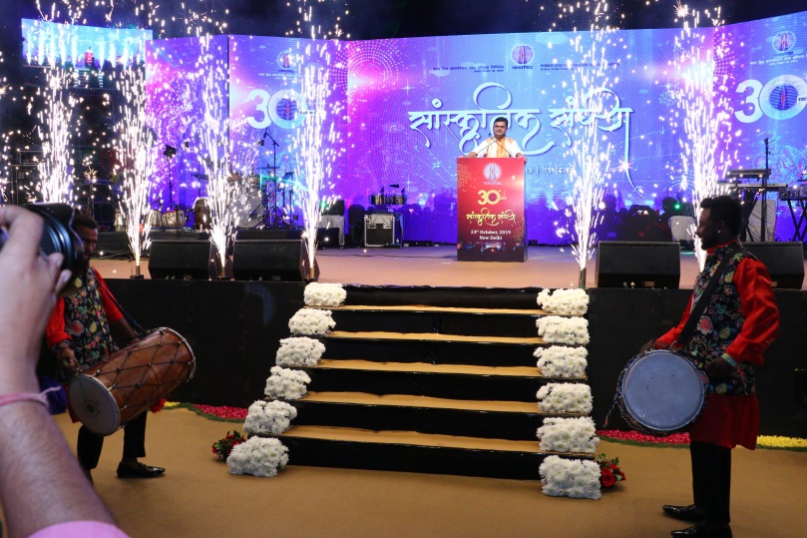 2019
Conferred the status of 'Maharatna' Company
Became the 3rdLargest CPSE in the country in terms of gross block
2 2 0 k V S r i n a g a r L e h T r a n s m i s s i o n S y s t e m commissioned, thereby connecting strategically important Ladakh region with the National Grid. It was a flagship project of Union Govt aimed at improving reliability and quality of power supply in the region
Organized the 6th International Exhibition and Conference GRIDTECH-2019 at New Delhi, inaugurated by Hon'ble Vice president of India
Developed in house Asset indexing software for Remote monitoring of around 2,800 transformers and reactors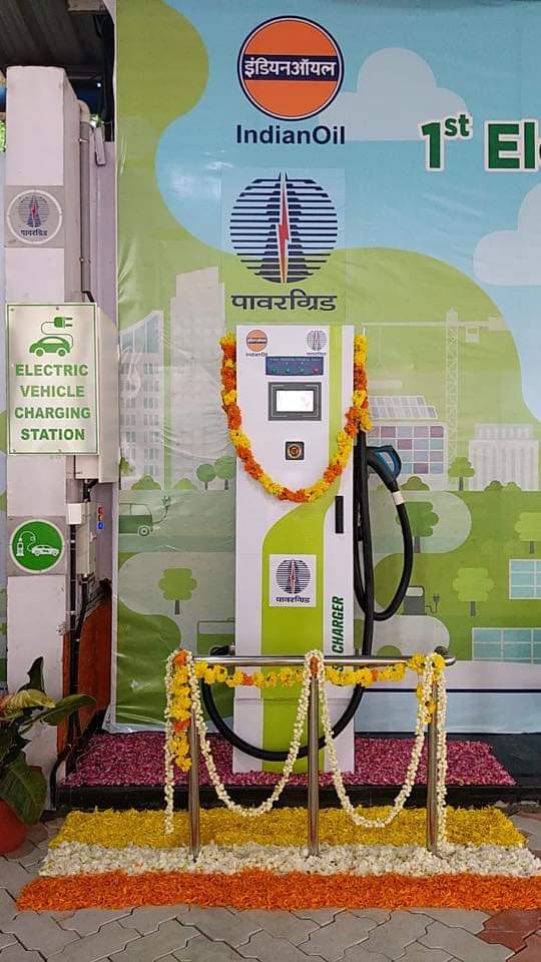 2018
Underground cabling work under Integrated Power Distribution Scheme (IPDS) project of Old Kashi in Varanasi district. The project dedicated to the nation by Hon'ble Prime Minister of India, Shri Narendra Modi
Acquired first Intra-State Transmission Project through Tariff Based Competitive Bidding (TBCB) for evacuation of power from 2x600 MW Jawaharpur Thermal Power Plant and associated transmission system
First public eV fast-charging station in Hyderabad at Miyapur Metro station on pilot basis was set up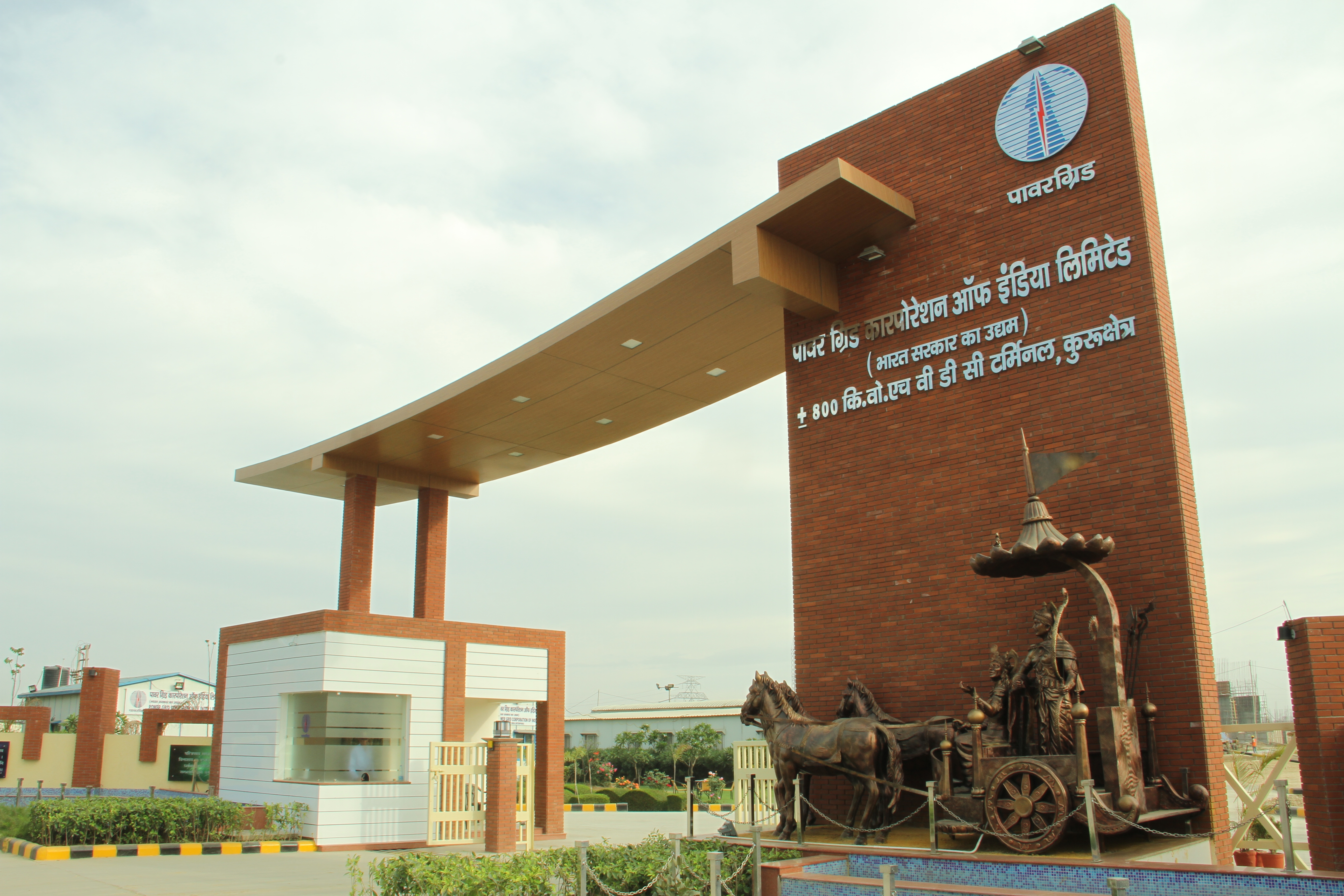 2017
Added a record 15,000 MW Inter-regional power transfer capacity
Commissioned ± 800 kV Champa – Kurukshetra High Voltage Direct Current (HVDC) Pole-I
Commissioned ± 800 kV Biswanath Chariyali - Alipurduar – Agra HVDC multi terminal transmission project, first of its kind in the world
Completed pilot project for providing the power required for Telecom equipment, by utilization of induced voltage in the earth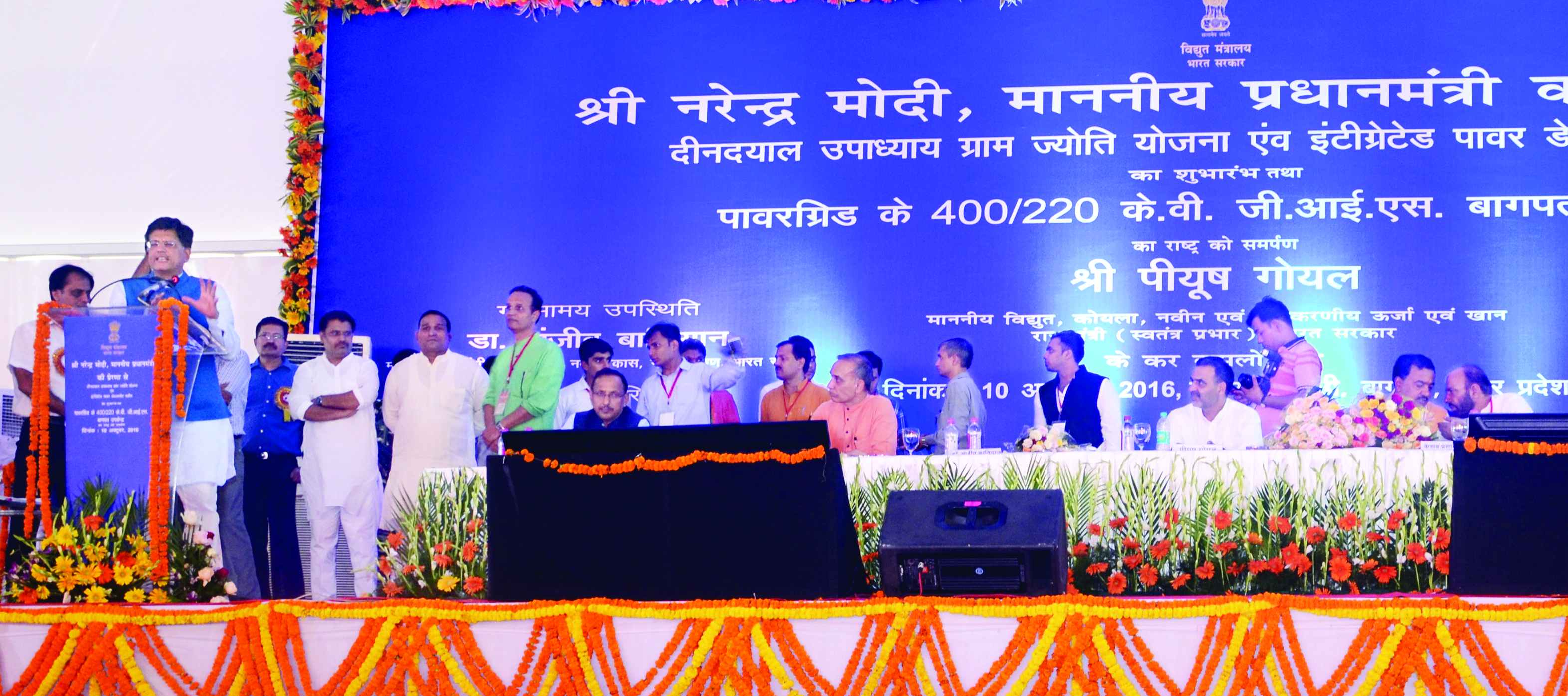 2016
World's highest voltage 1200 Kilovolt (kV) realised with the commencement of power flow at POWERGRID's National Test Station (NTS) on 08.05.2016. The project built indigenously at Bina, Madhya Pradesh.
Prime Minister Narendra Modi inaugurated a 100MW power supply in Tripura's Palatana to Bangladesh built by POWERGRID through remote control on 23.03.2016.
On 20 February, Nepal's visiting Prime Minister K.P. Oli and his Indian counterpart Narendra Modi inaugurated the 400kV transmission line linking Nepal and India.
The Nepal portion of the transmission line was constructed at a cost of $13.5 million and is already feeding 80MW power to Nepal. This will be augmented to 200 MW at 220kV in October 2016, and eventually to 600 MW at 400kV.
Dedication of 400/220kV GIS sub-station on 10.10.2016. This will be a remote sub-station and will be operated from NTAMC, Manesar.2013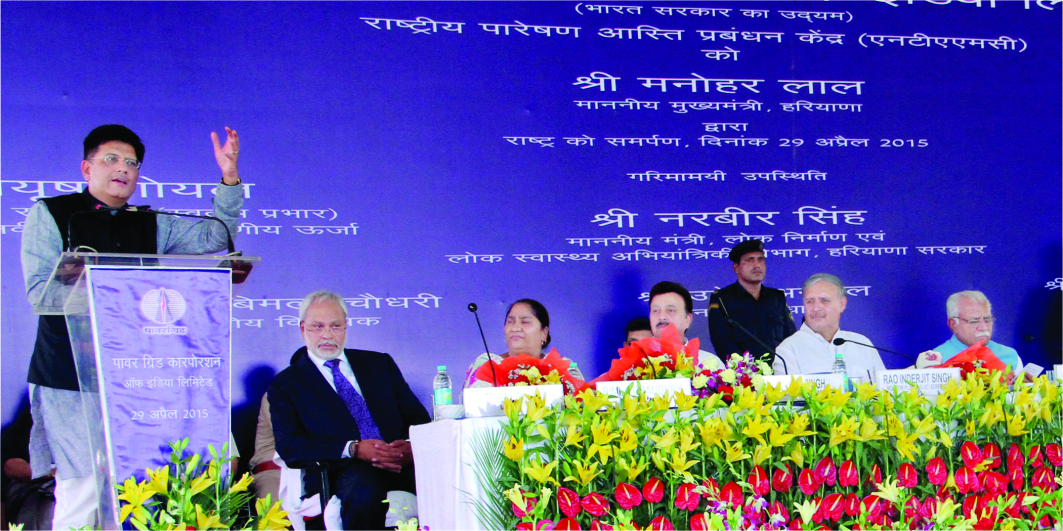 2015
Inauguration of National Transmission Asset Management Centre (NTAMC) at Manesar, Gurgaon. All Sub-Stations of POWERGRID & spread all over India will be monitored & controlled online (24x7) from this center.
World's largest multi-terminal ±800kV HVDC Project at Agra was completed on 22.09.2015. Power can flow in either direction through this power transmission express highway from Biswanath Chariali, Assam (North-Eastern region) to Agra in UP.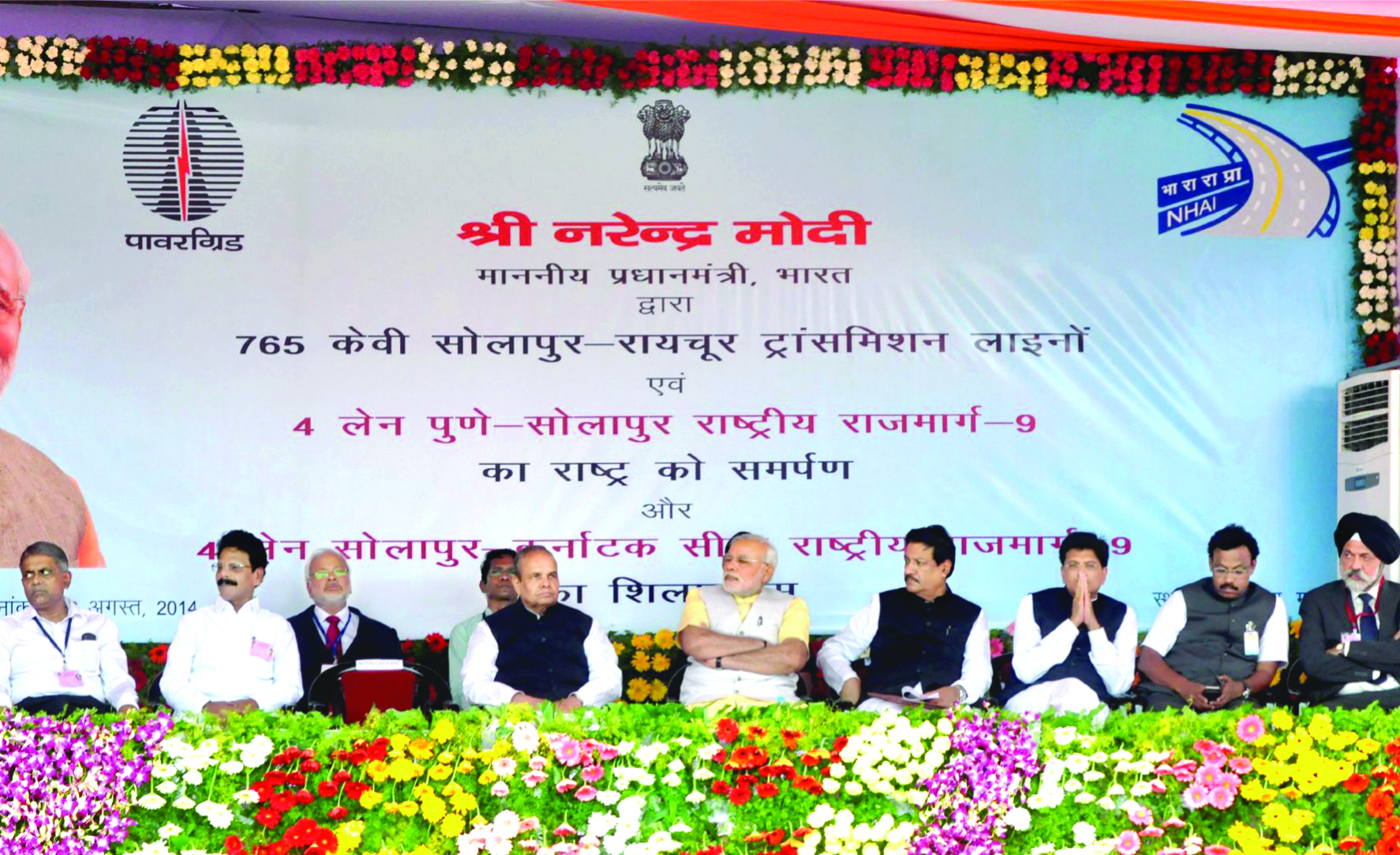 2014
Dedicated inter regional link 765 kV Ranchi-Dharamjayagarh-Sipat transmission line & 765 kV Solapur-Raichur transmission line to the Nation.
Foundation stone laid for Leh-Kargil-Srinagar Transmission System.2011
2013
Long cherished dream of One Nation-One Grid-One Frequency accomplished with the commissioning of 765 kV single circuit line Raichur-Solapur(South-West)
Dedicated 765 kV single circuit Agra-Meerut Transmission Line to the Nation.
Foundation stone laid for ±800 kV, 6000 MW multi-terminal HVDC system of about 2,000 km from Biswanath Chariali in Assam and Alipurduar of West Bengal to Agra in Uttar Pradesh.
Bheramara (Bangladesh)-Baharampur (India) 400 kV double circuit line along with HVDC back to back terminal at Bangladesh commissioned to strengthen SAARC grid.
Second Follow-on Public Offer (FPO) of equity shares launched.
International Credit Rating taken up for first time-S&P and Fitch Rating Rate POWERGRID BBB-(Outlook-Stable).
First Foreign Currency Bond taken.
Listed in Singapore Stock Exchange.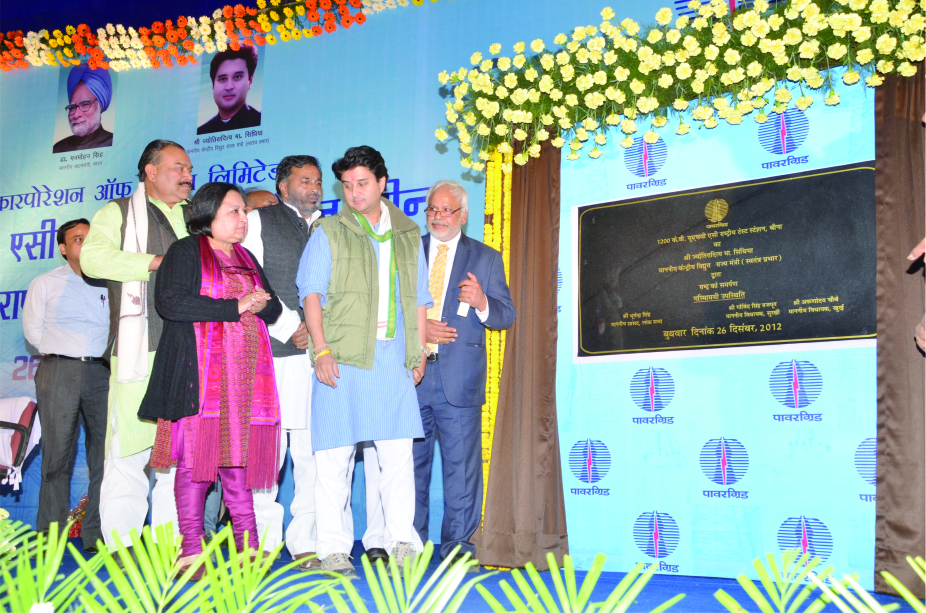 2012
India's first 1200 kV National test station at Bina in Madhya Pradesh dedicated to the nation.
Company adopts its vision for the first time & restates its mission.
Smart Grid Control Centre at Puducherry was established.
2011
Commissioned transmission system for first Ultra Mega Power Project (UMPP) at Mundra, Gujarat.
2010
Selected as a consortium member to implement the National Knowledge Network (NKN) project, a telecommunication infrastructure project.
First Follow-on Public Offer (FPO) of equity shares launched.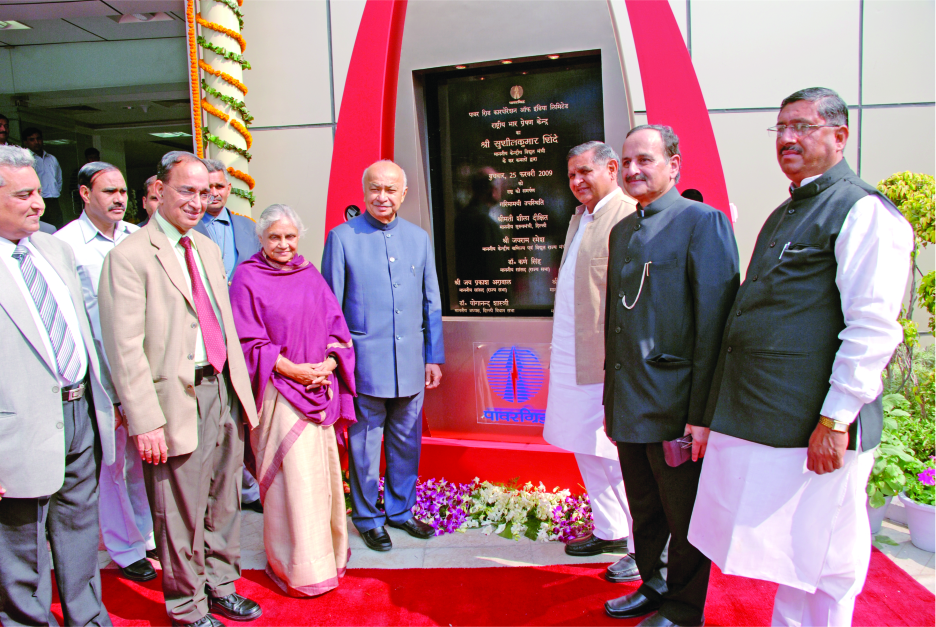 2009
Established National Load Despatch Centre (NLDC) at Katwaria Sarai, New Delhi
Power System Operation Corporation Limited (POSOCO) a wholly owned subsidiary established.
2008
220 kV Double Circuit Transmission line from Pul-e-Khumri to Kabul Transmission System in Afghanistan completed. Conferred "Navratna"status".
2007
1200 km East –North, Tala Transmission System, the first JV in Transmission System of Government and Private Sector dedicated to the nation.
Listing of POWERGRID's Equity Shares on the Stock Exchanges.
Country's first 765 kV line from Sipat to Seoni with compact tower configuration commissioned.
2006
Unified Load Despatch & Communication scheme for the Western Region commissioned.
Foundation stone laid for Western Region System Strengthening Scheme - II at Solapur.
Launch of Barh Transmission system.
2005
Unified Load Despatch & Communication scheme for the Eastern Region commissioned.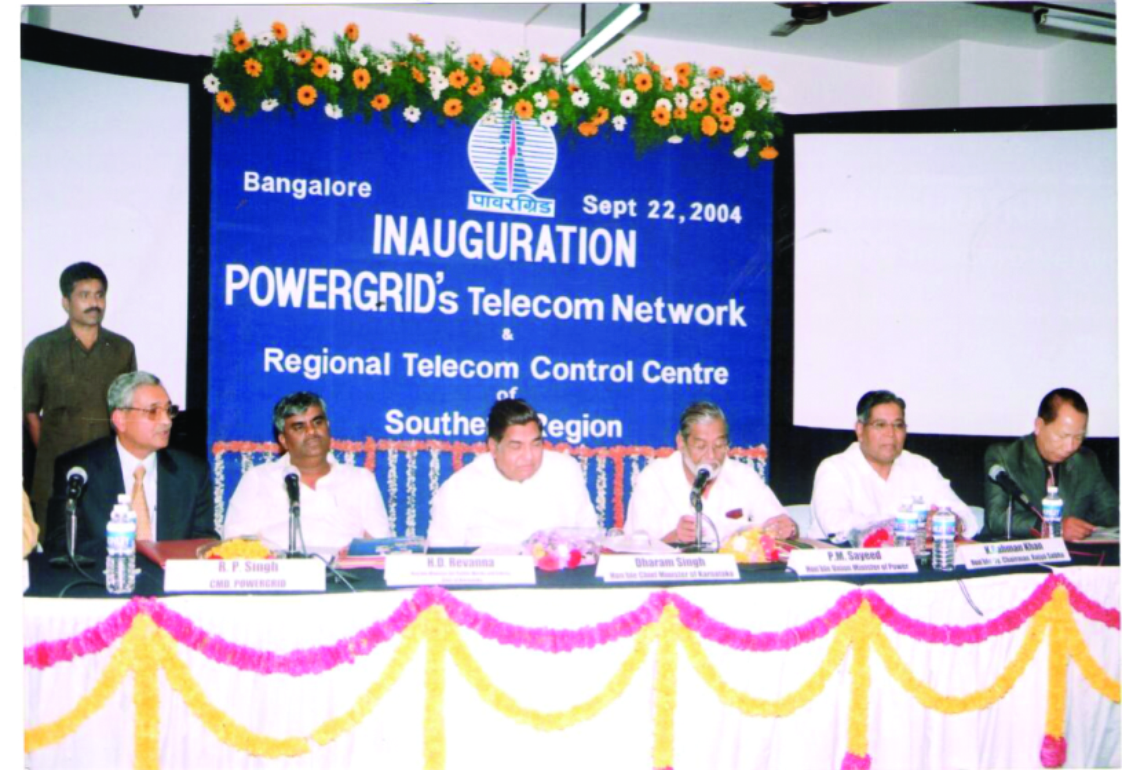 2004
Thyristor Controlled Series Capacitor (TCSC) at Raipur-Rourkela double circuit. First TCSC project in India and second in Asia
Inauguration of POWERGRID's Telecom Network & Regional Telecom Control Centre at Bengaluru.
Signed MoU with Rural Electrification Corporation of India Ltd. (REC) for undertaking rural electrification works under Rajiv Gandhi Grameen Vidyutikaran Yojana (RGGVY).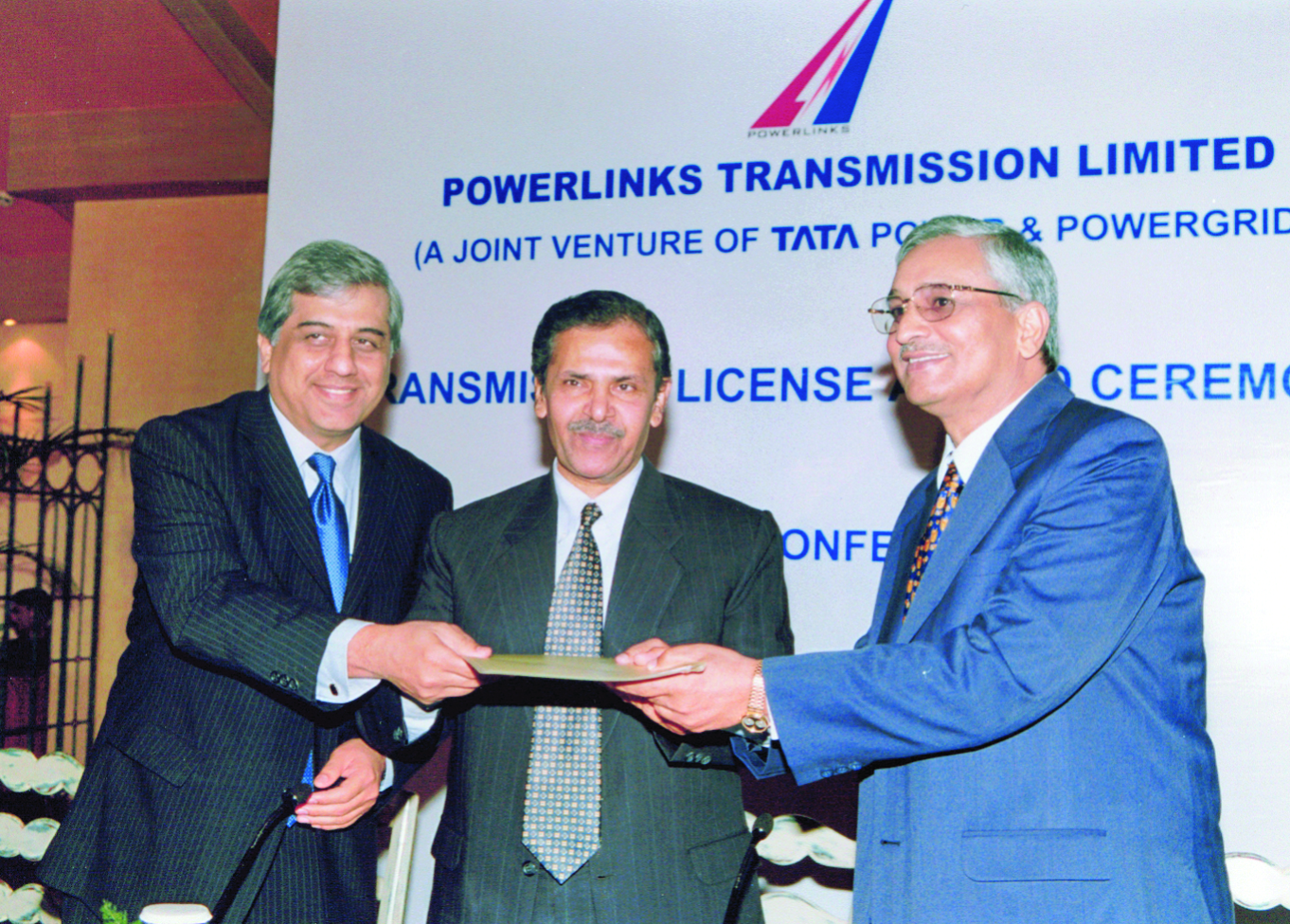 2003
First Joint Venture under PPP with Tata Power Company Limited formed for implementing transmission system associated with Tala Hydro-Electric Project.
First international consultancy contract from Bhutan Telecommunications secured.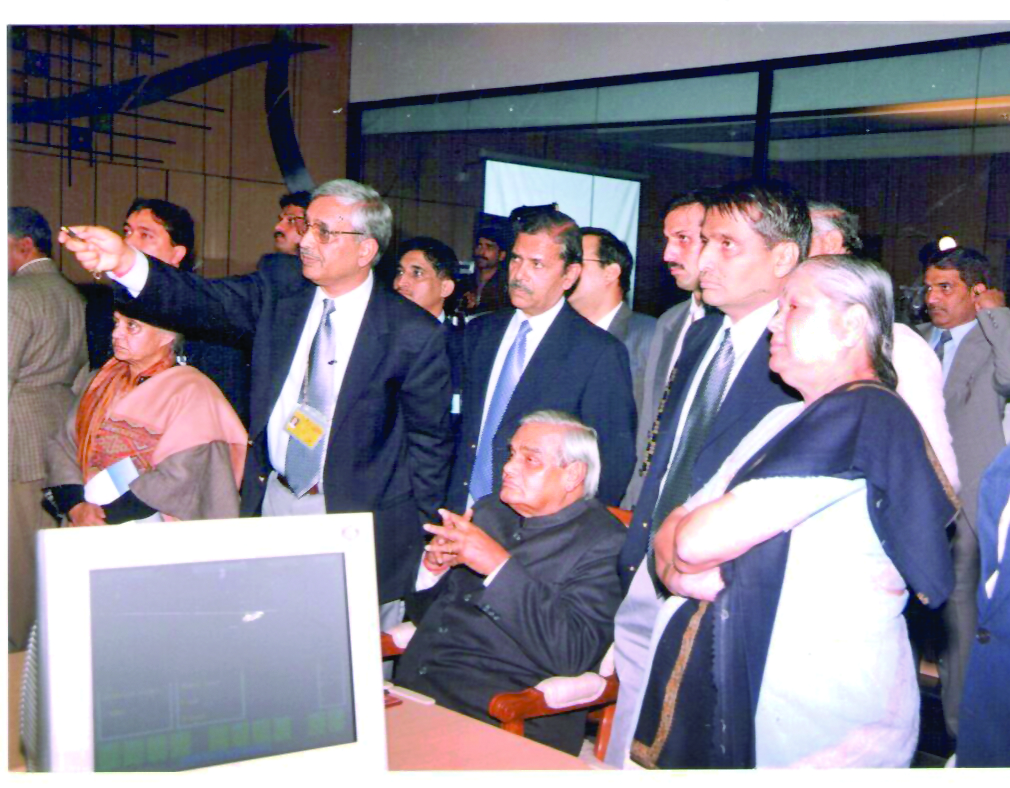 2002
Commissioned state-of-the-art Load Despatch Centre.
Unified Load Despatch & Communications Schemes for the Northern and Southern Regions commissioned.
Sasaram HVDC back-to-back transmission commissioned leading to the completion of first phase of construction of National Grid.
Commissioned 2,000 MW Talcher-Kolar bipolar HVDC link.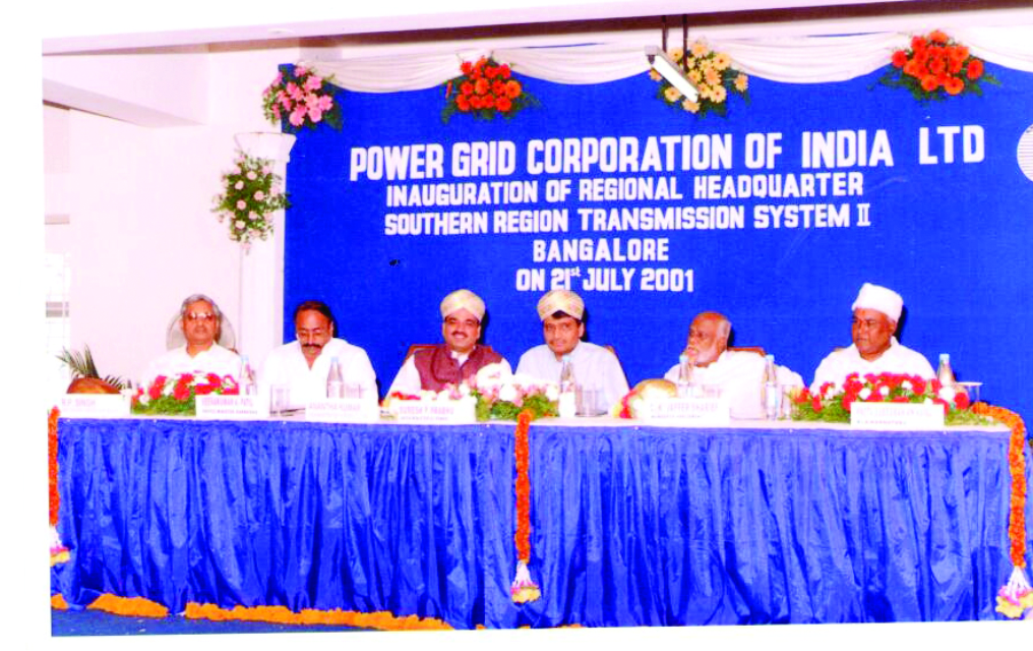 2001
Diversification into Telecom Business.
Inauguration of Regional office of SRTS-II, Bengaluru
First 800kV transmission link between Moga in Punjab and Kishenpur in J & K commissioned.
2000
The first optic fiber link between Chandigarh and Delhi under Northern Region Unified Load Despatch & Communication project was commissioned.
1999
Commissioned 500MW HVDC back to back project at Jeypore Gazuwaka, Andhra Pradesh, interconnecting Eastern & Southern Regions.
1998
"Mini Ratna Category I" status
Formulated "Environment and Social Policy & Procedures" to deal with environmental and social issues relating to its transmission projects.
Notified as Central Transmission Utility.
1997
Connected Western Region to Southern Region by commissioning 1000 MW Chandrapur HVDC Back to Back Station.
1996
The management of the Northern Regional Load Dispatch Centre and the Western Regional Load  Dispatch Centre delegated to POWERGRID.
1995
The management of the Eastern Regional Despatch Centre and the North Eastern Regional Load Despatch Centre, handed over to POWERGRID.
1994
Grid Management responsibility entrusted.
First Memorandum of Understanding (MoU) signed with Ministry of Power, GoI. Achieved the highest rating of "Excellent".
Took over the management of Southern Regional Load Despatch Centre.
1993
Acquired transmission assets of Tehri Hydro Development Corporation Limited.
1992
Country's first Static Var Compensator (SVC) commissioned at 400 kV Kanpur substation.
Transmission assets of National Thermal Power Corporation (NTPC), National Hydro Power Corporation (NHPC) and North Eastern Electric Power Corporation Limited (NEEPCO) transferred.
Name changed from "National Power Transmission Corporation Limited (NPTC)" to PowerGrid Corporation of India Limited(POWERGRID)on23.10.1992.
1991
Acquired transmission assets of Nuclear Power Corporation of India Limited.
1990
Certificate of Commencement received on 8 November 1990
±500kV Rihand-Dadri HVDC bi-pole link, the first HVDC line in Asia commissioned
1989
Formed as "National Power Transmission Corporation of India (NPTC)" to own, operate & maintain High Voltage System incorporated on 23.10.1989.