Overview

Sector

Expertise

Assignments Undertaken
Global Foot Prints
POWERGRID has footprints in 23 countries worldwide with a strong foothold in South Asia, Central Asia, Africa & Europe. It has proved its competency by successfully undertaking projects in some of the toughest geographies.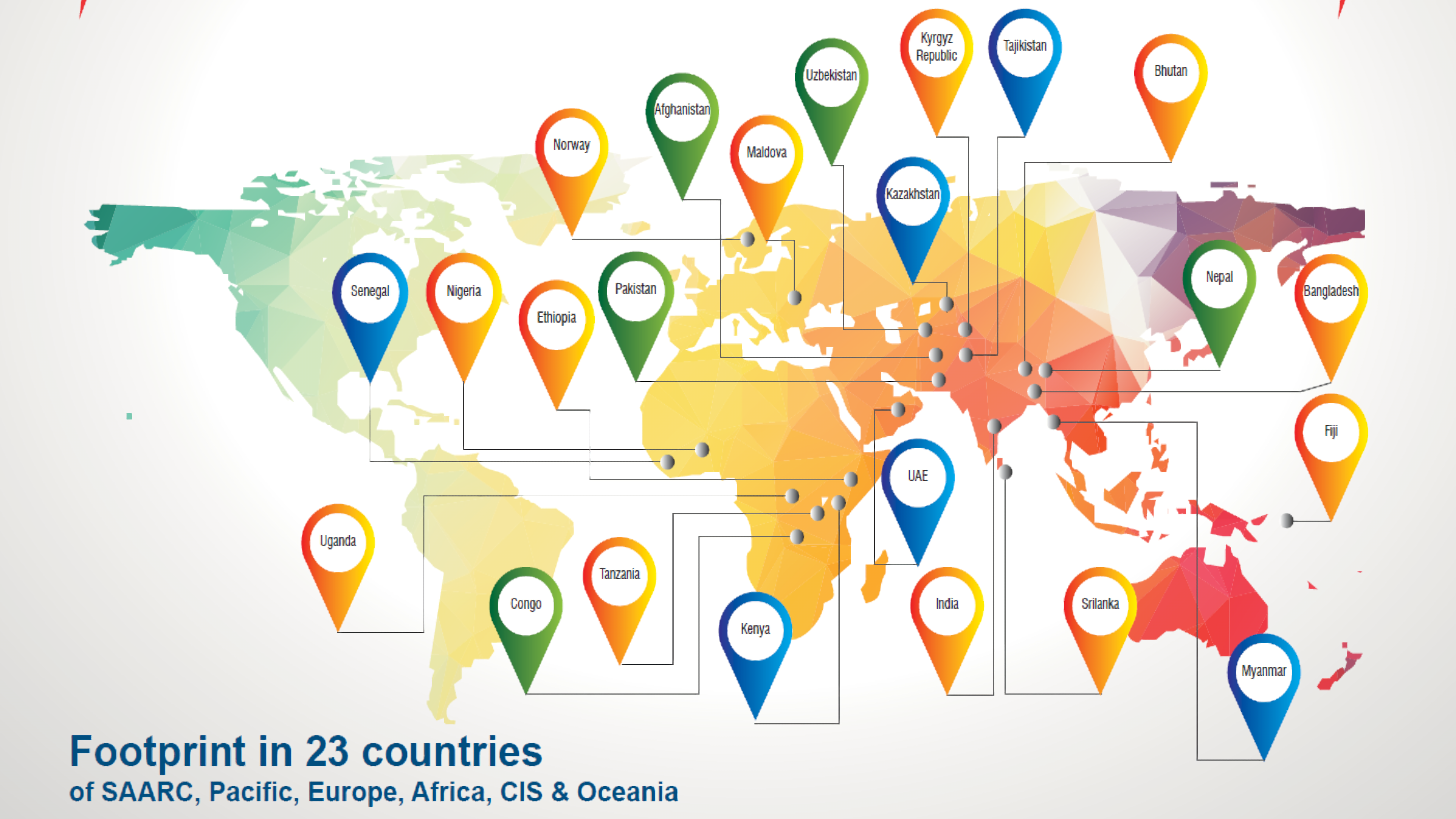 Global Consultant
Based on the rich experience earned through implementation of huge Transmission networks in India and abroad and by adopting latest technology in multifarious topology and environment, POWERGRID has emerged as a renowned Consultant in Power Sector globally.
POWERGRID's skill set has been sharpened by project execution experience in extreme conditions both natural and man-made. In spite of all odds, POWERGRID has managed to take up the assignments successfully and implement them successfully within given time-frame.
As POWERGRID is a Utility turned Consultant, the feedback obtained while carrying out the Operation & Maintenance of its projects is ploughed back to its design departments for continual improvement. These points of difference put POWERGRID as the much-preferred Consultant to bring in world class solution to its Clients.
POWERGRID has experience of over 22 years in undertaking more than 550 consultancy assignments for clients in India and abroad.
As a consultant, POWERGRID brings to its Clients, skills & experience of one of the leading and Largest Transmission Utilities of the World. A vast pool of highly competent in-house experts in Transmission (HVDC & HVAC), Distribution, Telecom, Smart Grid, Energy Efficiency and SCADA Systems. Association with world renowned specialists further enhances our competencies.
SECTORS
Transmission
Sub-Transmission
Distribution
Rural Electrification
Load Dispatch & Communication
Smart Grid
Telecom
Energy Efficiency & Sustainable Development
Testing Facility

Major Consultancy Assignments
AREA OF EXPERTISE
System Planning & Feasibility Studies
Environmental & Social Studies
Design and Engineering
Contract / Procurement Services
Project Management and Construction Supervision
Capacity Building
Operation & Maintenance
Asset Management
Owners' and Lenders' Engineer Service to Utilities and Funding Institutions
Preparation of Grid Code, Tariff Mechanisms, Market Analysis
Legal & Technical Advisory in Power Transmission